If you haven't heard,
Quiltstory
is hosting a Block Party.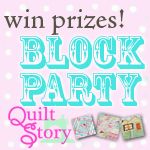 Here is one of my entries:
The Lover's Knot
This is one of my favourite blocks to make; however that wasn't the case. I had some left over material from a previous 'Lover's Knot' and wanted to play with the block again. It's a simple block made complex by the ordering of the fabric.
To achieve the interlocking knots that are characteristic of a quilt using
The Lover's Knot
pattern, the quilt requires two blocks made from the same material (the fabric is ordered differently); hence two pictures.